Donations are what allow Anffas Onlus Broni Stradella to make the wishes of mentally/relationally ill people become true.
How to contribute
You can make a donation by Credit Card or with your PayPal account by clicking the button "Donate".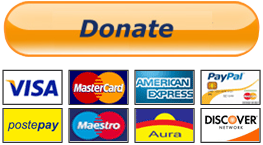 *It's not necessary to subscribe PayPal. If you don't want to subscribe, you can click on "Donate" and choose credit card payment.
You can also make a Bank transfer to:
Bank: UBI BANCA FILIALE DI STRADELLA
IBAN: IT13W0311156300000000007465
Single donation
If you want to support our projects or Anffas Broni Stradella Association activities, you can make a payment by bank transfer, credit card – clicking the button "Donate" on the top, or by your own PayPal account – always clicking the button "Donate".
Continued donation
If you want to continuously support our projects or activities, you just need to activate a continued bank transfer order, so your payments will be autonomously carried out according to the amount and frequency you requested.
Donation in memoriam
You can make a donation in memoriam if you wish to remember someone important for you, your family, friends or partner. This way you can honour your dear ones and lots of disabled people will be able to realize their life project for social integration. We're sending a letter to the family to communicate the receiving of the donation.
We remind you that your contributions to ANFFAS are tax deductible.
How to get deduction
Contributions must be payed by bank transfer, bank draft or credit card, linking the payment file to your own tax return – e.g. bank statement. Deduction is not allowed for cash contributions.